Ion
electric sportbike
Two months. That's all the time a 22-year-old college kid who spent his school days drawing fast cars needed to build one off the coolest electric motorcycles we've ever seen. It's enough to make us want to slap all the grade school teachers who ever told us to quit doodling during social studies.
Tom Miceli built the Ion during his final year at Appalachian State University. He studied industrial design, and his senior project required him to create something that reflected all he'd learned. Given his love for getting from Point A to Point C while passing Point B in a blur, his choice for a project was a no-brainer.
"I wanted something eco-friendly that didn't sacrifice performance," Miceli told Wired.com.
Leveraging his years of experience riding dirt bikes, Miceli stripped a '96 Kawasaki ZX6 Ninja to the frame and went to work. The result is a DIY electric motorcycle capable of more than 70 mph and a range of 60 miles. Judging from the pics and the videos of the bike in action, the kid's got talent to spare.
Tom

Miceli and his sportbike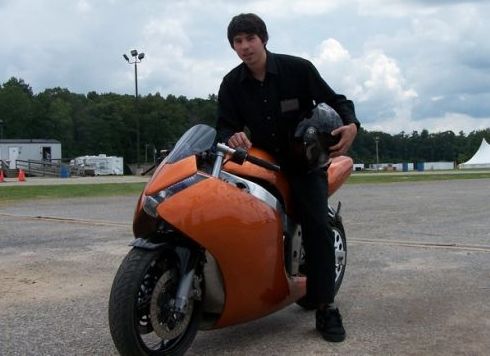 The nice plus is a videos of the electric conversion process.
Because I would like to share my personnal experience in electronics and vehicle conversion. I would like to help people who wants to make more than connecting cable on his vehicle and I hope to find some contacts to continue my conversion.